採用情報 Employment Information
仕事内容及びアピールポイント:
・授業とそれに関連する準備
・ほかの講師のサポート
・保護者対応
・体験レッスン対応
当スクールは小さな学校ですので、スタッフ皆が一つのチームとなり、常に向上心を持って業務にあたっています。
求める人材:
英語中級
日本在住
子どもが好きで熱意と愛情をもっている方
勤務時間・曜日:
月曜日から金曜日(午前8時半から午後6時まで)
年に4回イベントのため休日出勤あり(当スクールカレンダーによる)
給与:
お問い合わせください。 (資格や経験による)
交通アクセス:
田園都市線「桜新町」徒歩3分
渋谷から10分ほどの便利な立地です
応募に際しては、カバーレター、履歴書(写真入り)、職務経歴書を当スクールまでemailでお送りください。
info@cis-japan.co.jp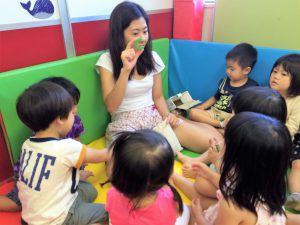 Cambridge International School welcome inquiries for teaching positions from all qualified and or experienced teachers.We are particularly interested in those teachers who have worked with pre-school children (ages 1 to 5), and have great enthusiasm for this age group.
All our classes are small as our philosophy is based upon generating communicational activity as the children engage in various tasks. By working in close interaction with the teacher the children establish the associated communication that comes with the activity as well as its rationale. Further to this they also establish a critical awareness of the task in which they are engaged. We offer a full academic program to our students including language arts, math/science, arts & crafts etc. and so potential candidates need experience teaching these subject areas.
The schedule is Monday through Friday. All candidates must currently reside in Japan and have valid visa status though we will sponsor and re-new visas. Cambridge offers a good opportunity for the right candidates to further develop their teaching and to help develop the quality of the school programs as well as communicate that quality to the local community. Candidates will also have the opportunity for professional development as the school supports teacher development.
To apply for a position please send an up-to-date resume (with photo), and a cover letter outlining your interest in and experience for a position.