About Cambridge International School Tokyo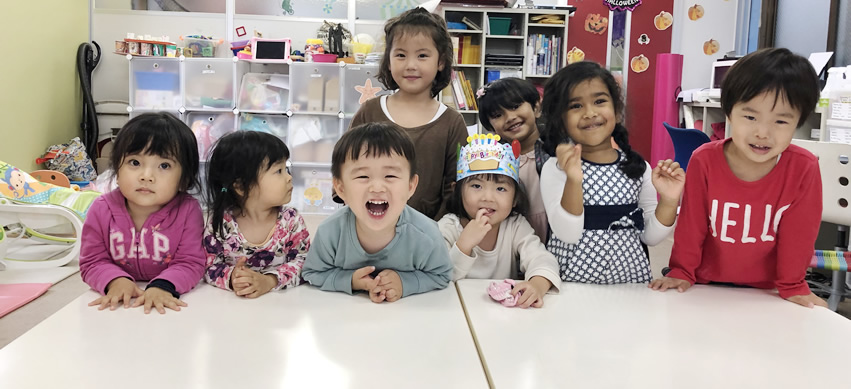 Introduction
Cambridge International School has half and full day classes for pre-school (ages 1-3), and kindergarten (ages 3-5). There are also afternoon classes for kindergarten and elementary (ages 6-10).
The central idea here at Cambridge International School is one of communication; communication outwardly in terms of expressing thoughts and ideas with others, but also inwardly, where we learn about our own behaviour and the cultural and social aspects that shape our lives.
Standing alongside this notion of communication is nurturing children as independent learners and inquirers. Cambridge's teaching philosophy is to develop learning and thinking skills in children and the teachers are expert in designing the innovative tasks that provide the learning opportunities to the children using various teaching methodologies. This is where the curriculum comes alive in order to immerse predominantly second language learners into native-like fluency of English.
To achieve this, specially scaffolded (structured) tasks engage the children in activity that promotes the use of contextualised authentic English. This is across all subject matter including language arts, mathematics and science, arts and crafts, perceptual and motor development as well as Montessori. Rather than engaging children in limited or memory-based practices that produce artificial responses, Cambridge ensures that children understand and can clarify learning targets for themselves by sharing the criteria for success based upon individual children's goals. By engineering effective questions that lead to rich informative classroom discussion, children understand meaning through use and context and through constant descriptive feedback. The end result of this being children engaging themselves, adapting their communication, and creating a positively re-enforced cycle of communication.
Our children are our future
Investing in your child's education has always been important, but now, more than ever, it is vital that in this ever increasing, inter-connected, world, where data and facts are continually being reinvented, that children have access to an affordable, high quality education that equips your child with the sound reasoning skills and adaptive strategies requisite for the necessary intellectual competence of today's complex world.
At Cambridge International School our fully qualified teachers and staff provide quality educational programmes where students are engaged in real learning using task based activities that promote the use of authentic English. We do not engage in limited, memory based practices that produce artificial responses which is the norm at other schools. Rather, our content based learning encourages students to inquire more deeply into areas such as language arts, social studies, science and mathematics. As well as learning through their own observations, students engage in various task based activities in important content areas that allow for authentic communication. Such communication provides not only the rationale for the observations, but enables the student to make connections to the real meaning of the language as well as establishing rational and clear thinking. Students then enter onto a higher learning plane that is both born of self observation and through social discussion. This meta-level development is key in establishing the necessary critical thinking that allows them to inquire, explore and create as independent learners.
School Philosophy
Here at Cambridge International School we are committed to educating young people to meet life as a whole. Academic excellence is absolutely necessary, but equal importance is also given to an ongoing inquiry into the way we live our daily lives. Many of the difficulties in the world are the outcome of attitudes and beliefs that education for our modern times needs to examine. For this reason Cambridge School is a place where both the teacher and the child explore not only the outer world, the world of knowledge, but also our own thinking and our behaviour. Our philosophy therefore is where one learns about the totality, the wholeness of life. This Self-knowledge is education; education in the true sense in helping the individual to be mature and free, to flower greatly in love and goodness.
School Aims
An ability for clear, rational thought
Create a friendly, safe, but challenging environment that stimulates and encourages enquiry.
Provide learning opportunities for each child to encourage meaningful activity and communication.
Provide opportunity for children to instigate and act on their own initiative.
Provide opportunity for children to create their own tasks and be creative in extending problem solving tasks.
Provide opportunity for communicational expression through discussion and presentation.
Develop an open mind to inquiry and informed discussion.
Internationally minded people
Understand the indivisibility of humanity and that suffering is caused by division through the superficiality of nationality and cultural belief.
To use English as the medium of communication in all classes so that students may engage and communicate with each other in one common language.
To see life as a movement in relationship and that we are all related to one another.
Open minded
Develop through communication and exchange an understanding of the need for clear expression and listening skills.
To realize the limitation of a judgmental mind and to see the limitation in value-laden judgments.
Develop a sense of balance and perspective through team games and physical education.
To understand the limitation of thought as a system of belief.
Community
By sharing together through different school functions with other classmates, we learn how to relate to each other and foster good will.
By providing experiences where children work as members of a team and help them to develop co-operative skills.
By providing various safe and fun school activities for our students to experience.
Create a community spirit - between the child, parents, school, and the wider community.
By keeping parents regularly informed of their child's progress e.g, school handbook, parent-teacher conference and daily reports.
By providing parents with information about the curriculum we are delivering to their child.
By ensuring that the teachers, students, and parents have a common vision of the direction the school is moving.
Conference and Communication
Students with problems or concerns are welcome to speak to any of our teachers, who will always try their best to help or to refer them to someone who can help. Parents/guardians who wish to confer with teachers or administrators must make an appointment through the administrative staff by email or by telephone. Conferences with parents/guardians are conducted individually. Administration will not confer with a parent/guardian without any prior appointment.
Contact
Please contact us whenever you have questions.